Marketing and sales are successful when all suppliers and customers want the same, because the offers and their communication are coordinated with each other.
If you want to serve the goals of your customers, you should know them. It is an essential step from general customer orientation to differentiated coordination with the motivation of the individual decision maker.
Covering his profile from the customer's communication
IPM offers various methods for this purpose. For example, the analysis of a client's texts shows how he communicates, which priorities he sets and how he can best be motivated.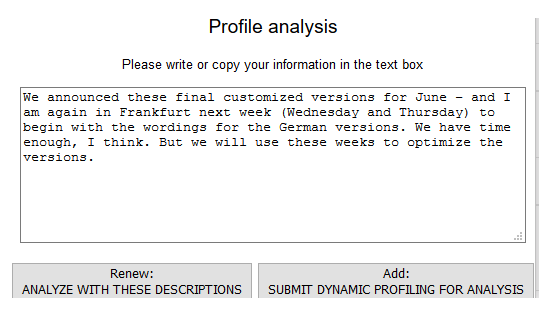 As a result, marketing measures, customer care, preparation for meetings, integrative objection handling and conclusion techniques can be adapted to the individual profile of the customer.
Intelligent Strategies
Sales and marketing are aimed at people who differ clearly from each other as personalities. Differentiation is a necessary basis for success strategies.
To rely on the chance to reach the potential customer by chance with the right arguments and the appropriate communication costs money and image. The IPM Personality Recognition enables a tailor-made approach, communication and argumentation.
To speak of sustainability and guarantees to an assertively-oriented person is at least boring for him. To tell a customer who is focused on security that his world will change with certain products or services causes anxiety. Positive hits are not to be expected.
The essential decisions are made unconsciously. They are determined by the individually differing strengths of the basic needs for enforcement, security, belonging, individuality, insight and empathy. Marketing and sales want to give these needs food for thought, i.e. provide suitable motifs.
The task of IPM systematics is to make all aspects motivating to purchase transparent, so that personality-related dissonances = emotional resistance are largely avoided. There are, for example, typical security products or innovative services. With this insight, the effort for marketing and sales can be reduced to the target customers for whom such offers are personally appealing.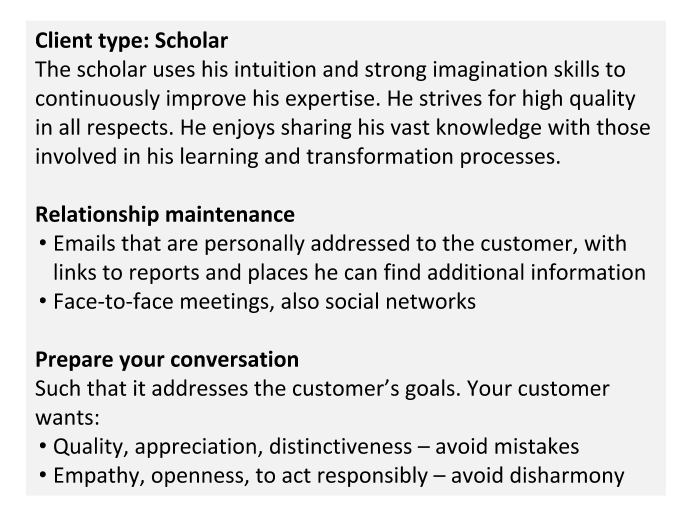 Most products and services can be argued and presented in several directions so that they are attractive to different personalities.
This, combined with the knowledge that certain communication channels and forms work quite differently in relation to a customer type, leads to a structural improvement. From the point of view of the potential customer, you bring your offer to the essential point - to his! Tailor-made and communicated in an understandable way.
The Short Path to Success
If you want to go the direct way to the end, you have to know possible resistance and objections. You can try to eliminate them or use them positively. It is a question of know-how.
IPM is an assistant function for sales. In order for you to achieve results quickly, we support you in the transfer of knowledge into suitable forms of communication and argumentation.
The vision: You know how your potential customer thinks and feels. You have an eye on what he loves and what he detests.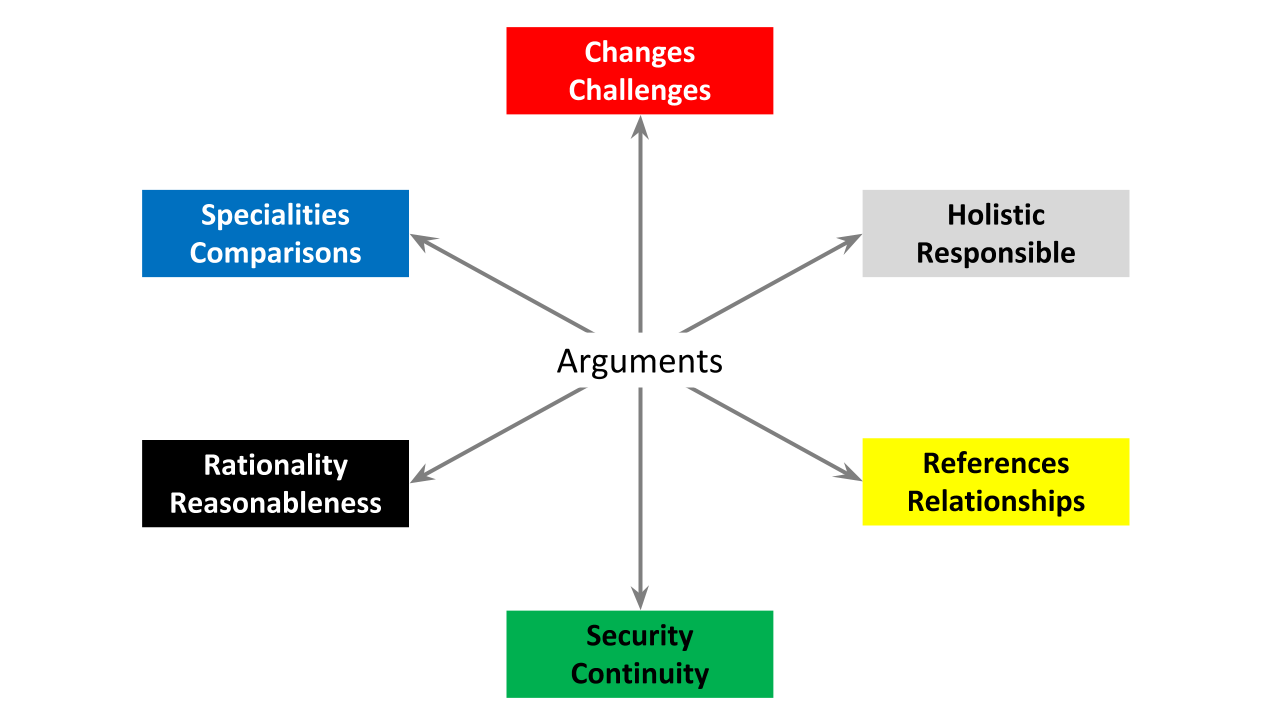 The result: you present yourself and your offers in an optimal way, because his wishes are appealing and his fears calming.
An example: The "green" customer wants to be conveyed in a calm and understandable way why he is on the safe side with your offer. You have five possibilities to do something wrong by talking too much about references, logic, emotionality, peculiarities or even new strategies.
For your future success story of your marketing and sales activities, IPM takes care of some tasks for you:
We provide know-how, argumentation, communication and implementation strategies for a tailor-made customer approach
We translate your argumentation and objection handling into the emotional language of your customers
speak the language your customer understands
It is much easier to offer the right thing to the customer in the right way if you know him. Avoid misunderstandings. If you know what the customer wants to achieve and what he wants to avoid, you can align your language, arguments and the use of media accordingly.
Personality determines communication. For example: Those who want to assert themselves first and foremost want to see where things go. Such customers you reach by pictures. If you want to be recognized as an individualist by others, you don't talk much - but you want to be asked. These prospective customers love information, preferably to "read themselves".
So there is a preferred way of communication for every basic need. It's good to master them. Talking past each other not only costs unnecessary time and money, but also makes it difficult for your customers to trust you.
If you want people to listen to you, then it makes sense to use the communication channel on which the customer prefers to receive the messages.
It is much more pleasant to gain customers who are loyal to you, your company or your products - of their own accord - in the long term than to want to achieve customer loyalty through any strategies that hardly pay off in the medium term.
It is important to stay in touch in the right way. We recommend to inform every contact person about new offers, events, etc. in a suitable way. If, for example, you like to read information, you prefer to receive what you need via email or newsletter. Those who prefer pictures will be supplied via the visual media. Those who want to feel (with) others prefer lively case studies and stories. These and other control data help you to avoid inefficiencies, and your customers are served because it reduces the flood of information at least to a certain extent.
Adapting to the customer also means that you can play a role for him as a business partner. Those who seek knowledge like to use someone who researches for them - those who want security need a partner who observes the "field" for them - those who want to assert themselves look for the adjutant in you. And so on.
Before a sales talk, you use the IPM Customer Portrait to find out what sales role your customer will have, what arguments will help and what objections can be expected. To be well prepared means to approach the customer inwardly. In this way you strengthen his trust.