We are currently experiencing various bottlenecks in many industries, particularly in the recruitment of engineers and specialists. But recruiting young people, for example for vocational training in the skilled trades, is also a challenge for many companies.
In such situations the question is "How do I win an employee for my vacancy" rather than "Does the employee fit in with the job and the team?
If we ask ourselves, "How attractive are our company and the tasks for the person we want to attract?", then the answer needs a complex consideration of the rational and emotional relationships between person-to-task team companies including family and superiors, environment, place of work and much more. This also against the background of people coming to us from other countries with their special professional and personal experiences.
Either way, it's all about the closest possible proximity between the future employee and the company: "Who best suits whom?
This emotional or formative closeness can be analyzed and expressed in figures over several different levels.
Hard facts or soft tendencies
Using various analysis methods, IPM examines the "soft skills" of all participants. These are a number of categories and characteristics that are decisive for the success of employee identification and integration.
Implicit motives: Performance - Power - Relationship
basic needs: Enforcement - Integration - Security - Individuality
orientations: cognition - empathy - past - present - future
perception level: facts (body) - emotions (soul) - sense (mind)
Preferences: Sensing - Intuition - Thinking - Feeling
Focus: Continuity - Logic - Feeling - Process - Result
As everyone knows about themselves, these expressions are not rigid. How we feel, how we think and what we want depends on our experiences, the current situation and expectations for the future.
But, there is something like inner maps - which determine our position and our limits. Some people believe they can cross their own boundaries for an important goal. This has often and painfully proven to be wrong. The cobbler should stick to his last, okay. But they may have been made for ladies' or men's or children's shoes, for wide or narrow feet. This will not stand in the way of his professional happiness.
Seen this way, the growing "applicant market" offers both sides a great opportunity, because an employee who loves what he does professionally from the bottom of his heart is very satisfied and very productive.
How near are coworkers and place and enterprise and...
If IPM reports the values in the form of numbers, it is because this enables comparisons to be made. The positions and distances, for example between a job profile and several applicants, can be displayed in a matrix.
The aim is to provide jobseekers with information, ideas and, above all, questions for their job offers - and job providers for their candidates.
To do this, the profiles that are to be related to each other are first analysed. Alternatively, questionnaires (ranking procedures) and text analyses can be used as analysis methods.
For example, the description of a job profile is copied into the text field and the analysis is started.
supporting the management in cross-divisional projects
Organisation of a smooth flow of information within the areas
Preparation of relevant business data Coordination of internal and external business meetings
The result is a description of the "ideal" personality for this job.

The matrix function for visualizing the fits can then be called up.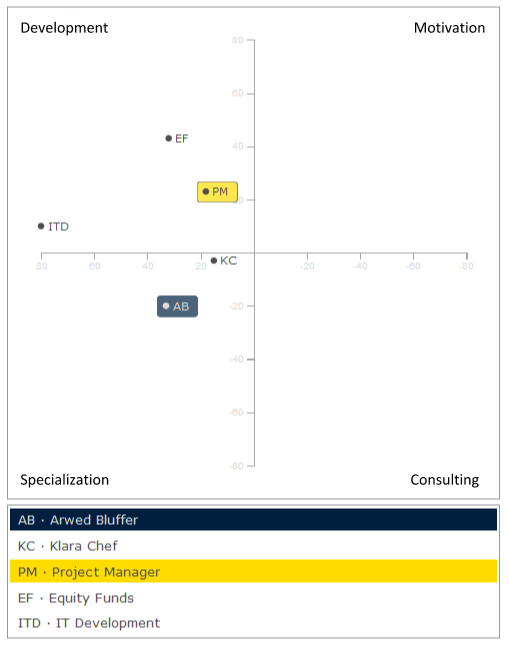 This matrix shows the "proximity" of the applicant "AB" to the comparative profiles. The "removal" of the company (here a provider of equity funds) from the IT development team, the head of the team, Klara Chef, and the project manager position is conspicuous.
As in many similar companies, this results in a tension that can either lead to conflicts or to a positive synergy. The applicant can clarify this.
At first glance, the position fits quite well. The slight deviation can be discussed in the assessment. The comparison recommends discussing the expected characteristics of the position.
Soll profile "Jobholder":
Priorities: achievements, special features, finding recognition
Strengths: quality, fact orientation, conscientiousness
Communication: rather introverted, distant, wants to be asked.
Compared to the company, the gap is larger. These clarifying questions are recommended to the interviewers.
How do you deal with the fact that tasks bring about unpredictable changes rather than order?

What do you do if day after day there is too little time for careful planning and safeguarding of projects
In principle, the same procedure applies. A profile is always compared with other people, tasks, teams or offers.
Different are the tips for the interviewers, which can be derived from a comparison. The recommendations are largely freely editable for projects of IPM customers. In this example, assessment questions to future agents were defined for a call center. The necessary flexibility is to be clarified here:
flexibility

We expect from our agents a high degree of flexibility and resilience. On the phone, you respond to the customer and his needs, but actively steer the conversation, because you want to achieve something. To achieve this, you have to be wide awake. From this perspective, I would like to know what motivates you and how you envisage actively advising customers.
Which expressions should be analyzed?
Some companies use personality tests for candidate selection, often with 3, 4 or even 8 specific characteristics. The 24 values of IPM will cover most of them directly. Some values of other personality constructs result from the combination of certain characteristics, e.g. "coordination" presupposes a need for individuality and integration. After prior clarification and coordination, IPM offers transfer functions for already existing systems (from text analysis). Existing profiles for the comparison operations can also be transferred to the IPM scales.
And after the setting?
The applicant profile data is used for all further considerations. Always provided that the applicant agrees: The colleagues in his department automatically use an employee or manager profile, while Personnel Development uses the learning profile. Interfaces are available for automated access and processing routines.

The new employee in turn uses the profiles of his colleagues, perhaps also via the HR system, in order to better understand them. This requires openness, which, as practical experience shows, benefits everyone.